Simurgh Pinoline/harma tattoo.
Tatouage réaliser avec de la *pinoline/harma au sein du pigment; au terme d'une diète d'un an, ciblée sur les beta-carbolines, peganum harmel.
Droite sous U.V. fluorescence avant assimilation complète des beta-carbolines par les cellules de la peau.

*La pinoline (et autres b-carbolines endogènes), neuromédiateur du système nerveux central est intimement liées au rêve et aux états de conscience modifiée, on la retrouve impliquée lors de différentes phases du sommeil, ainsi que lors des N.D.E., des transes induites par la danse, l'épuisement, ou encore la méditation; considérées comme étant le vecteurs, le médiateur d'autres réalités.

Tattoo work with pinoline/harma like pigments, in the end of one year peganum harmala daily diet.
With & without ultra violet radiation

Simurgh Pinoline/harma tattoo Bis.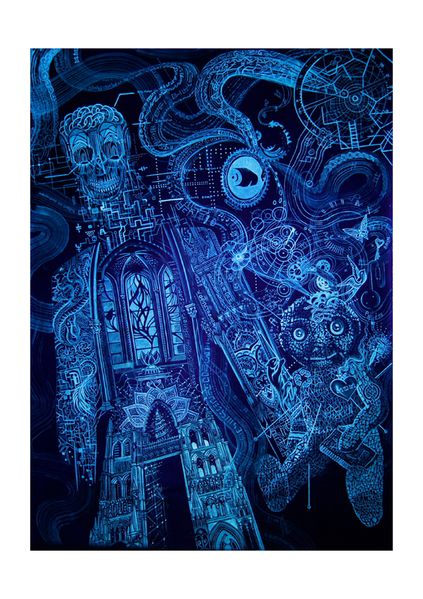 Peinture non finalisée en l'état, exécutée avec le neuromediateur Pinoline/et harma, représente une vision obtenue par Caroline durant la diète et exprimée lors des séances de tatouage.

Painting in association with pinoline* tattoo, (under c)

Pinoline/harma like pigment, uv light.
* The pinoline (and other b.carbolines endogens), mediators of the central nervous system, is closely linked with dream and modified states of consciousness, and is found implicated through the different stages of sleep, as well as during N.D.E, transes induced by dancing, exhaustion or also, meditation, considered to be vehicles, mediators of other realities.
Extract from Roy Ascott presentation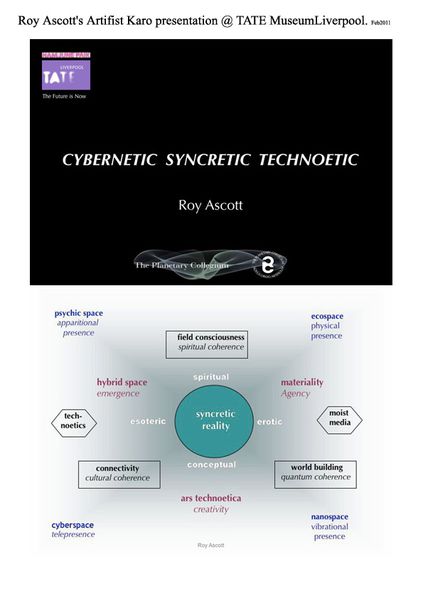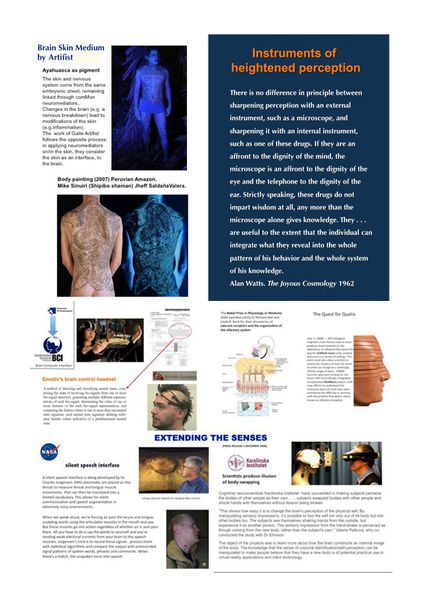 Links:

http://blog.tate.org.uk/?p=6415